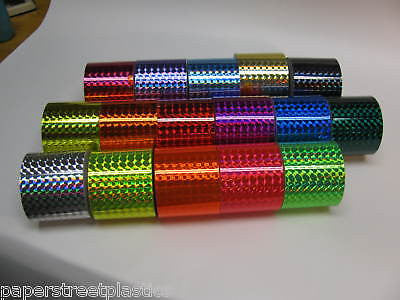 Set of 16 Different Color Prism Tapes, 2 Inch x 25 feet, Holographic 1/4" Mosaic
This sale is for 16 rolls of tape, each is 2 inch wide x 25 foot.  One roll of each available color.   Metric measuremnt of this tape is about 50mm x 8 meters.  Will stick to any clean, smooth surface.  3 mil thick ( 0.003 inch ), with a paper release liner on the back.
Colors in picture are, from top left
raspberry, violet, sky blue, gold, black
middle row; yellow, orange, red, purple/fushia, royal blue, emerald green.
front row, silver, fluorescent yellow, flo orange, flo pink, flo green.
All tapes are adhesive coated on the back. Waterproof.  The tapes are very flexible, can be wrapped around a pencil. Items can be combined for shipping discount. Other widths are also available.  
Great for  RCs,  Auto and truck graphics, stripes, lures. flashers. crafts
 Items can be combined for shipping discount.
---