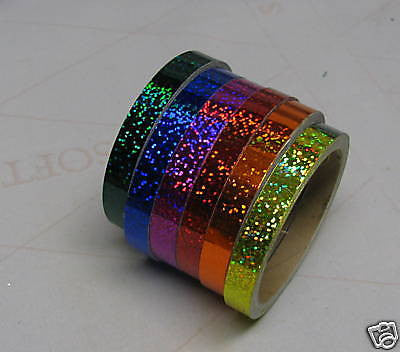 Any 6 colors, Glittering Vinyl Tapes, 1/2" x 25 ft
6 Glittering Vinyl Tape  1/2" x 25 feet, each.   6 rolls of tape. Each roll is one half inch wide by 25 feet in length. Adhesive coated on back. Pattern is holographic glitter, also called sequins.This tape really sparkles brightly, in sunlight it is a real eye-catcher.
Colors choices are yellow, orange, red, fuschia-purple, royal blue, light blue, green, silver, gold, black, fluorescent pink, flo green, flo orange, flo yellow, and violet, pink fizz.
please remember to send color choices to me in an email, or, to us at info@paperstreetplastics.com
Special effects holographic pattern is irridescent, it sparkles and changes color with movement. A close-up photo of this pattern in silver color is shown in our silver tape advertisements.
Often used for ; decorative tape, automotive stripes, band tapes, flag pole wraps, trim, borders, underlining in signage, small decals, hula-hoop wraps, decorations, bikes, toys, RCs, RVs, boats, fishing lures, flashers, graphics, edging, edge bands,  clothing accessories. Can be used outdoors.
items can be combined for shipping discount on international shipments
---