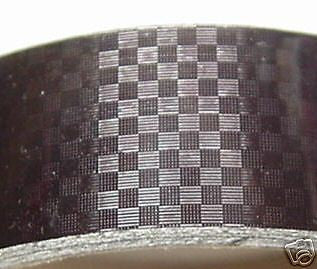 Any 3 Decorative Vinyl Sheets,8 x 12 inch, Engine turn, OilSlick, Brush, Leaf
your choice of any 3 sheets, ok to mix and match.
  free shipping for USA only
You can please email me your choice(s) of sheets from the list below. 
Pictured is Carbon Fiber, Gray  Vinyl . The carbon fiber tapes do not contain any carbon fiber. It has a carbon fiber pattern embossed into a middle layer of the vinyl.  Adhesive coated on backside. A release liner is removed to expose adhesive layer. This is a peel and stick product.  Great for borders, stripes, trim, edging, small decals, band tapes. borders, auto graphics..
Made in USA. Money back if not satisfied. Items can be combined for shipping discount.
Choices
Gold Brushed Aluminum
Silver Brushed Aluminum
Gold Leaf
Gold engine turn (small engine turn pattern)
Silver engine turn (small pattern)
gold large gold engine turn
silver large engine turn.
silver coarse brush
Red mini hearts
skull and cross bones
Avery carbon fiber
Silver oil slick / overall /rainbow
Gold oil slick/ overall /rainbow
Pearl
textured carbon fiber
any color gloss regular solid colored oracle 652 vinyl 
---
---
---
More from this collection