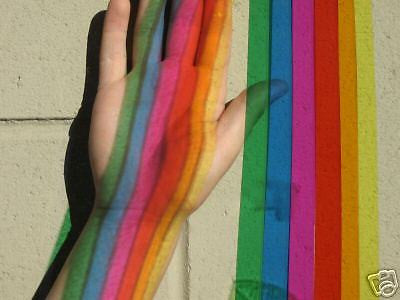 6 Rolls of Transparent Plastic Tapes, 3/4 Inch x 25 feet, choose any colors
6 transparent tapes. each are one half inch wide by 25 feet in lenght. ( 12mm x 8 meters ) Adhesive coated on the back. Will stick to all smooth, dry, surfaces. waterproof.   In the item photo, the 6 colored tapes are on a window (right) , the colored sunlight is on the hand.  The tapes in photo are 1/2 inch wide.   Great for windows, led lighting, mirrors.
The four fluorescent colors will fluoresce under daylight, and glow under a blacklight.
Recent production, made in USA. 
A peel and stick product
Please  let me know your color choices, you can send me an email with your choices, to info@paperstreetplastics.com 
These tapes are also available in 6, 4, 2,1, and 1/2 inch wide, as well as 6, 12 inch,  and 24 inch wide rolls and also 8 x 12 inch sheets.
Available Colors Include;
clear
yellow
orange
red
purple
royal blue
light blue
emerald Green
gray
violet
fluorescent orange
fluorescent Pink (hot pink)
fluorescent Green
Fluorescent Yellow
Tan

raspberry
pink fizz
clear  matte
clear gloss
Turquoise Teal
Brown
---