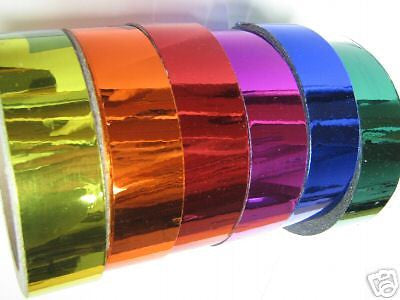 6 Chrome Tapes, 1/2 inch x 25 feet , Rainbow Colors
6 Tapes, each is half inch wide and 25 feet in length.  ( 12mm x 8 meter )  Adhesive coated on back. Each tape resembles a colored mirror surface or colored chrome. This vinyl is also called smooth, mirror and chrome.  Colors shown are yellow, orange, red, purple, blue, green. 
Often used for ; Decorative tape hula-hoop wraps, decorations on cars, , bikes, toys, RCs, RVs, boats, fishing lures, flashers, graphics, edging, edge bands, edgeband, clothing accessories. Can be used outdoors.
This 6 pack is also available in 1 inch and 1/4 inch wide.
Made in USA, money back if not satisfied.
---
---
More from this collection