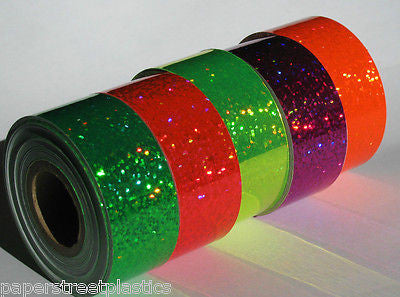 5 Rolls of Sparkle Sequins Tape, Tropical Fluorescent Color Mix 1"x25 ft each
 5 rolls of 1 inch x 25 foot of sparkling holographic sequins tape.
This set contains the 5 colors; fluorescent green, fluorescent pink, fluorescent yellow, purple/fuschia, and fluorescent orange,
These tapes stick to most clean, smooth surfaces. 
Metric measurement of this tape is about 25 mm x 8 meters.
This tape is 3mil thick, and made in USA. It is 3 times thicker than the PET tapes sold by other sellers.
These tapes are adhesive coated on the back. Waterproof.  The tapes are very flexible, can be wrapped around a pencil. Items can be combined for shipping discount.   
Great for  Hula Hoops, Fishing Lures, Flashers, Bird Repellent.
I also sell 6 packs, 15 packs, and other widths of this item i
---
---
More from this collection